12 Free Bootstrap UI Kits to Simplify Your Web Development Work
With the release of Bootstrap 4 Beta 2.0 a few weeks ago, Bootstrap is currently the most popular and reliable open-source front-end web framework enjoying a significant market share of over 16.4% for all websites. One area, however, where it needs severe improvement is the default design which is quite dull and overused. This is also the same reason why all Bootstrap websites look almost similar to each other.
Thanks to UI kits that make you capable of drastically improving the look and feel of your web development projects as well as saves you a lot of time and efforts. Allowing you to efficiently modify the overall styling of your theme and saving you from searching or creating new components every time you start a new project, a Bootstrap UI kit plays a vital role in differentiating your projects from the thousands of others using the same traditional Bootstrap theme. Let's look at some of the best open-source Bootstrap 4 compatible UI kits worth utilizing in your upcoming projects!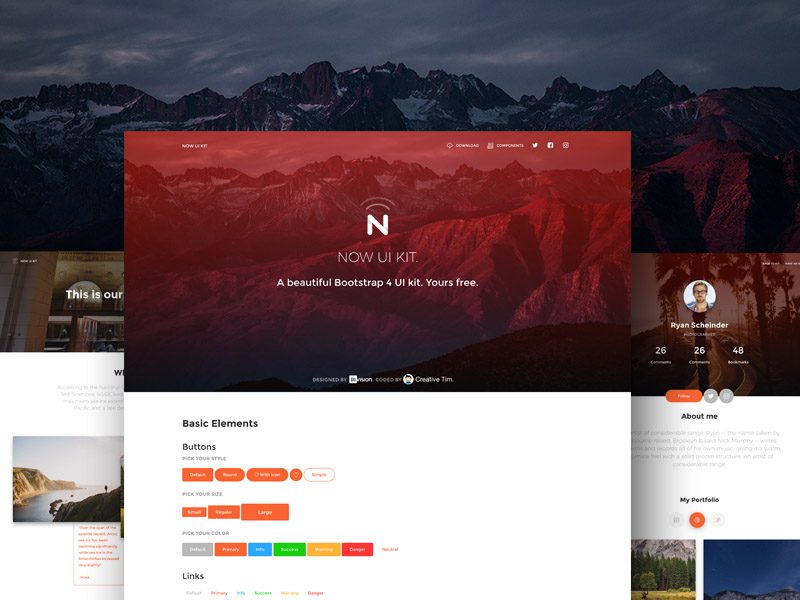 Now UI Kit is a free responsive Bootstrap 4 UI kit featuring over 50 handcrafted components, 3 example pages, and 3 customized plugins. Built on the top of the popular 12 column grid system, it is a beautiful cross-platform UI kit designed to help developers create clean and simple websites in accordance with the modern flat design. A pro version of this UI kit with hundreds of extra components and features is also available to take your web development to the next level.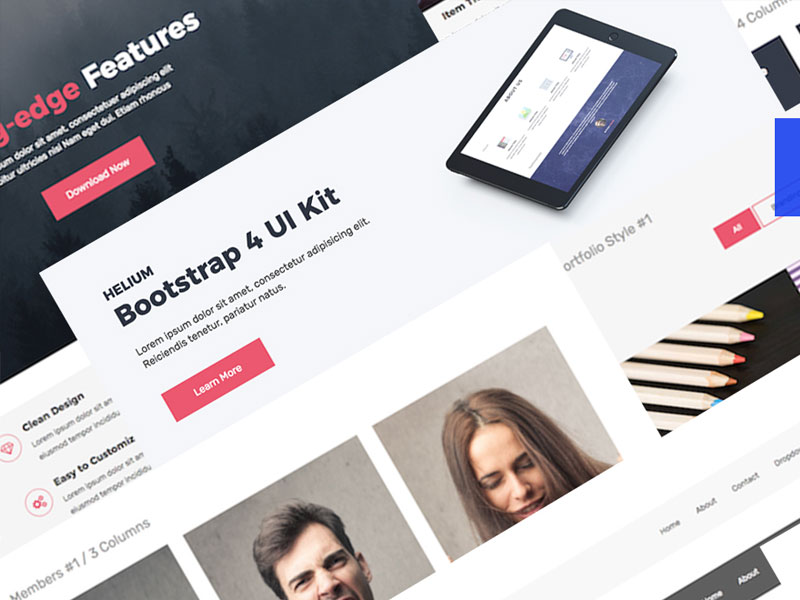 Developed using the latest technologies such as HTML5, CSS3, and Sass, Helium is another high-quality and feature-rich responsive Bootstrap 4 UI kit available for free to use for both personal or commercial projects. Having a block-based code structure combined with tons of ready to use elements and components, it allows developers and designers to create their own user-interfaces or websites in minutes – even without writing a single line of code. Helium is perfectly suitable for business websites.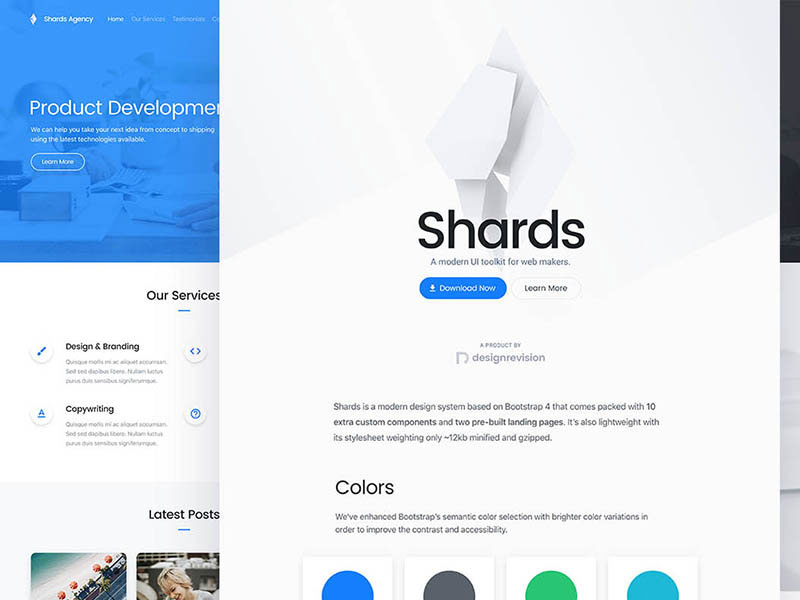 Shards is a lightweight, modern and responsive UI toolkit built with the exceptional performance and minimal aesthetic in mind. Having Bootstrap 4 at its core, it comes preloaded with ten extra custom components, two pre-built custom landing pages, and an extensive documentation to help you get started with your next project faster than ever before. Having a very small footprint, it weighs as low as 12KB minified and gzipped.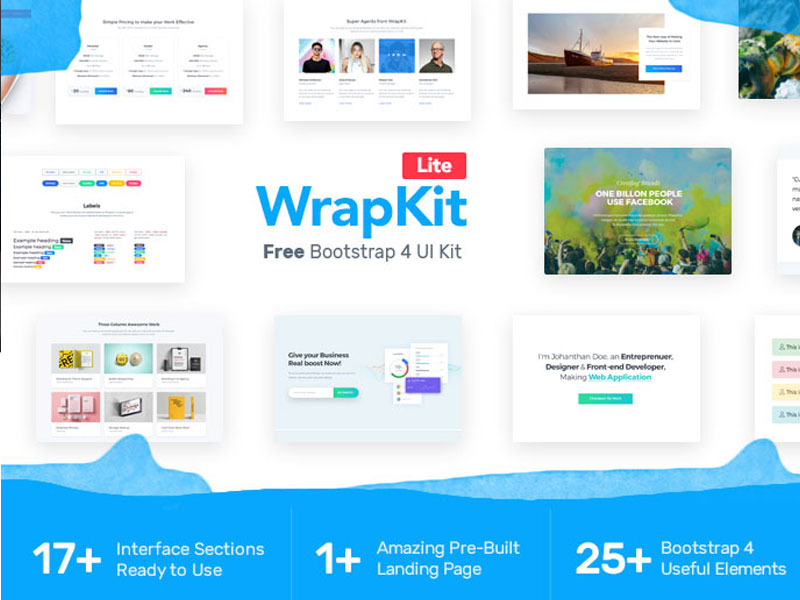 WrapKit Lite is powerful yet lesser known Bootstrap 4 web UI kit that is free to use only for personal use. For commercial projects, you may try the Pro version of WrapKit. Equipped with over 17 ready to use interface sections, 25+ useful Bootstrap 4 UI elements, and 1 pre-built landing page, WrapKit Lite gives you the power to create anything you want in just a few minutes. In addition to being responsive, it is Retina Display-ready too.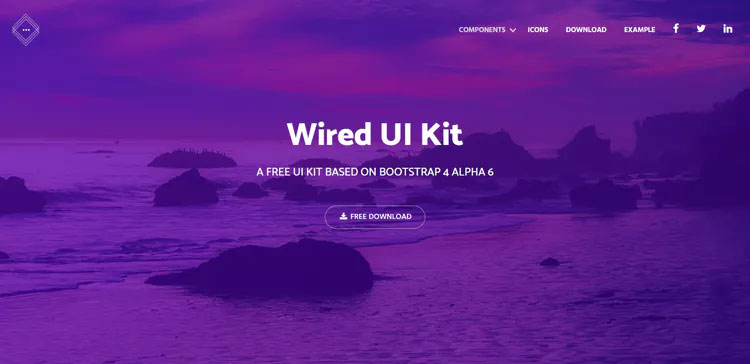 Wired UI Kit is a modern, clean and cross-platform UI kit featuring over 60 redesigned Bootstrap 4 elements and a beautiful example landing page to help you start a new project in absolutely no time. Available in two color variants Light and Dark, it makes use of a clean and customizable code, beautiful typography and bold colors. An attribution-free pro version of Wired UI Kit is also available for the one-time fee of just $19.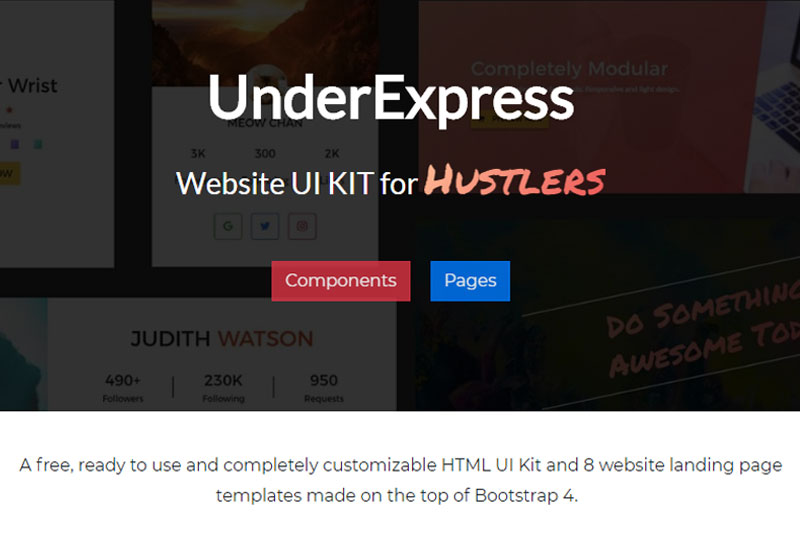 UnderExpress is a lightweight, ready to use and highly customizable UI kit built on the top of Bootstrap 4. Packed with 8 readymade website landing page templates and 100+ custom coded handcrafted user interface elements, it allows you to build stunning web projects easily and quickly. Since every component in UnderExpress is perfectly responsive and highly customizable, the possibilities of what you can do with it are endless.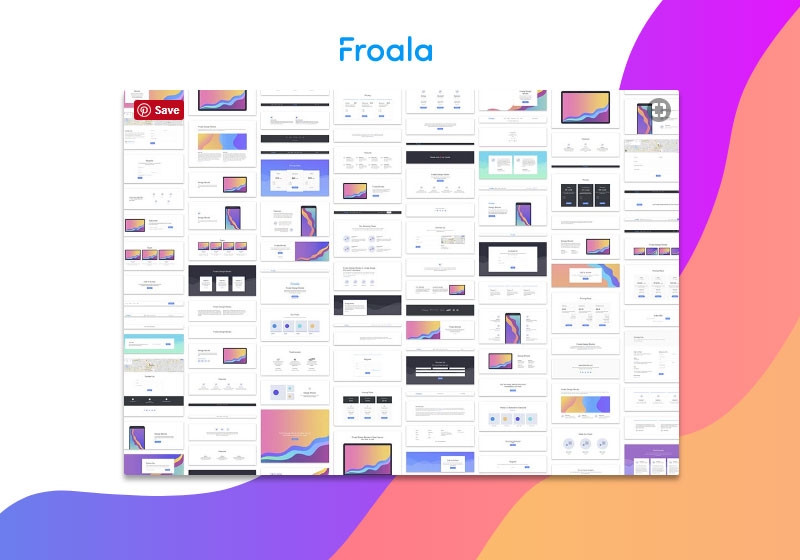 Offering 170+ ready to use responsive design blocks, this handy UI toolkit by Froala lets you build clean, modern and beautiful websites and mobile apps in minutes. It by default uses the Roboto font which can be easily replaced with any other font using Google Fonts. Additionally, it supports all major web browsers including IE 10+, Edge 14+ and Safari 6+.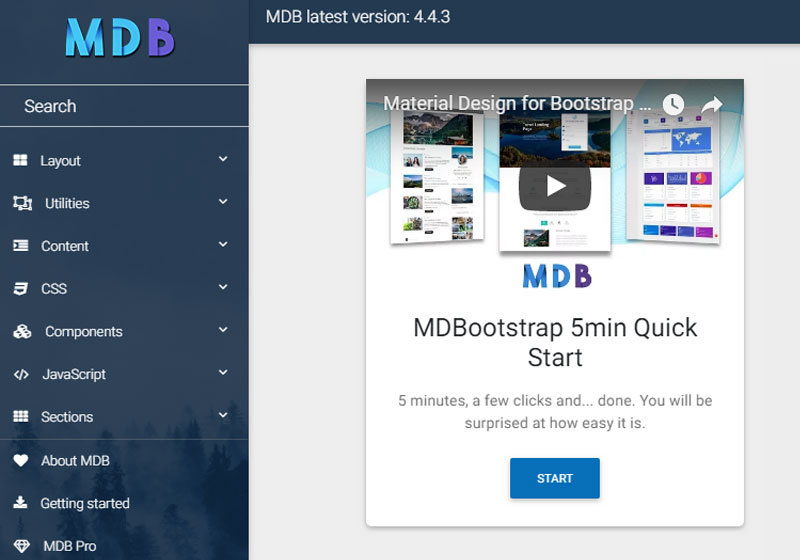 Free for both personal and commercial use, MDBootstrap is one of the most powerful and popular Material Design UI kits available for Bootstrap 4. Trusted by over 300000+ web developers and designers, it comes pre-packed with 400+ material UI elements, 600+ scalable material vector icons, and 70+ easy to use CSS animations. Moreover, an extensive user-friendly documentation is also provided to help you implement your web development ideas easily and quickly.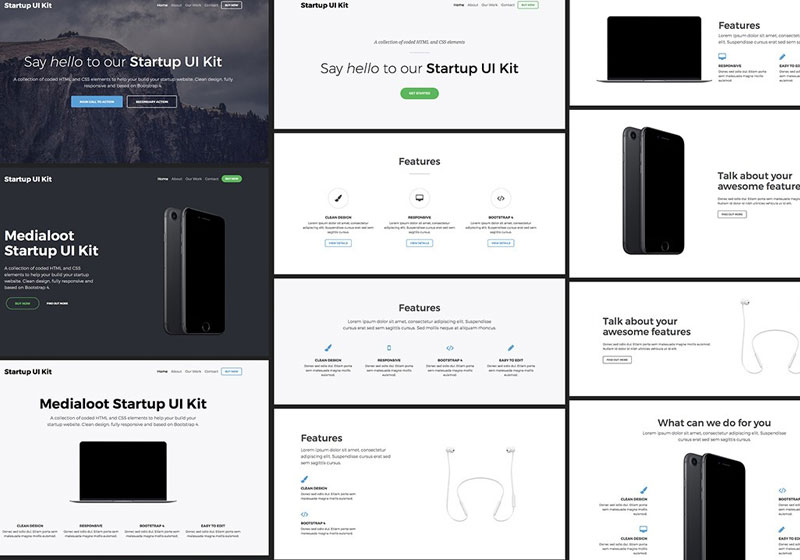 Fully responsive and built on the top of Bootstrap 4, this pixel-perfect UI kit is designed specifically to speed up the process of building clean landing pages or launching your own startup website. The free version of Bootstrap 4 Startup UI Kit offers a set of 16 UI cards from the premium collection and requires attribution to the owner, on the other hand, the non-attribution premium license costs around $15.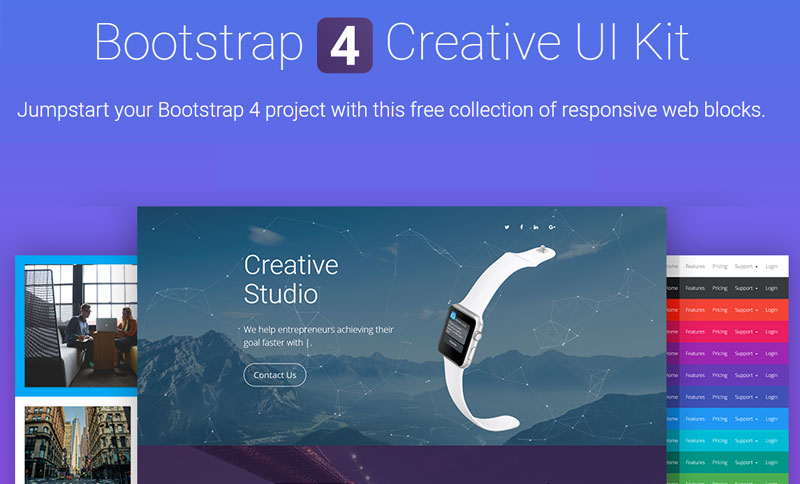 Built with the power of Bower, Gulp.js, and Sass, Bootstrap 4 Creative UI Kit is a free collection of predefined responsive web blocks, scripts, and styles that help you create responsive websites of all types. Though all the elements it contains are ready to use out of the box, you can tweak them to fit your project requirements if you want. What's more, source files like mockups and example images are also included to make your work easier.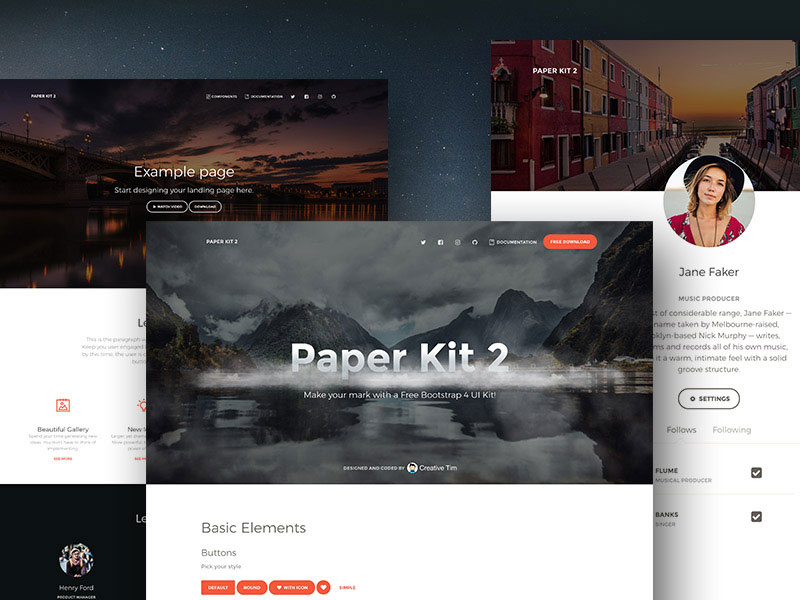 As the name itself explains, Paper Kit 2 is a free Bootstrap 4 UI kit built with paper, pastel colors and drawings in mind. Featuring beautiful typography, thoughtful layouts, and elegant font icons, it empowers you to create fully-responsive templates and websites that look great on every screen size. A premium version with a huge number of components, plugins and example pages is also available for advanced developers.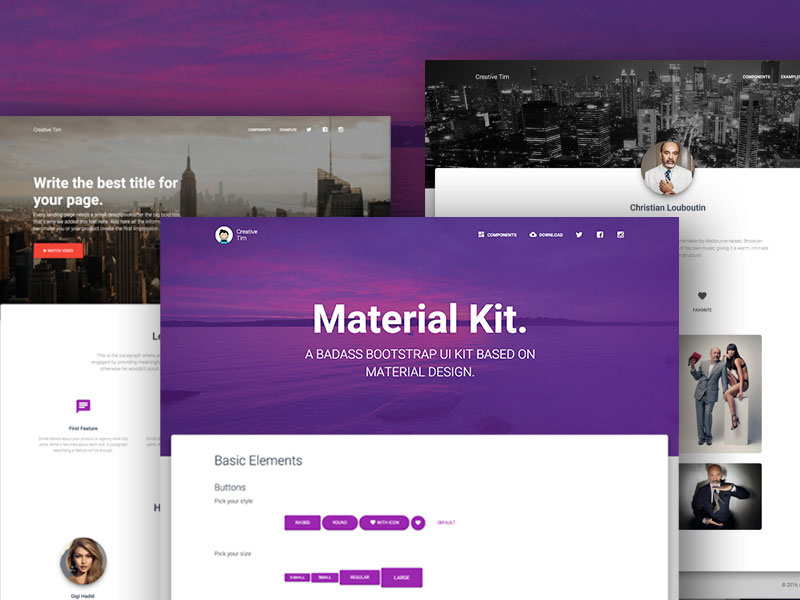 Material Design for Bootstrap is one of the most popular and widely used open-source Bootstrap 4 UI toolkits for developing responsive, mobile-first websites and apps using the power of HTML5, CSS3, and JavaScript. Inspired by Google's Material Design, this beautiful kit comes packed with 3 fully-coded example pages, 2 customized sections and over 50 handcrafted components to help you get started with your project quickly. You can even take your project to the next level with the pro version which costs around $79 and comes with over 1000 handcrafted components.
Need a custom Bootstrap theme with unique look and advanced functionality? Visit our PSD to Bootstrap conversion service page to get more information or hire a full-time Bootstrap developer.