Top 5 Best Email Newsletter Testing Tools
As per a report, enewsletter has a return of $40 for every $1 spent, and click-through rate of more than 5% with conversion rate of 4.15%. This explains why eNewsletter is the most favored channel to reach out, connect and to stay in touch with your prospective and current customers.
There are many email clients available. Each email client interprets the newsletter code in a slightly different manner, which makes it even more necessary to test your code in different clients. The list below shows email client usage worldwide, calculated from 251 million email opens tracked by Litmus Email Analytics in August 2013.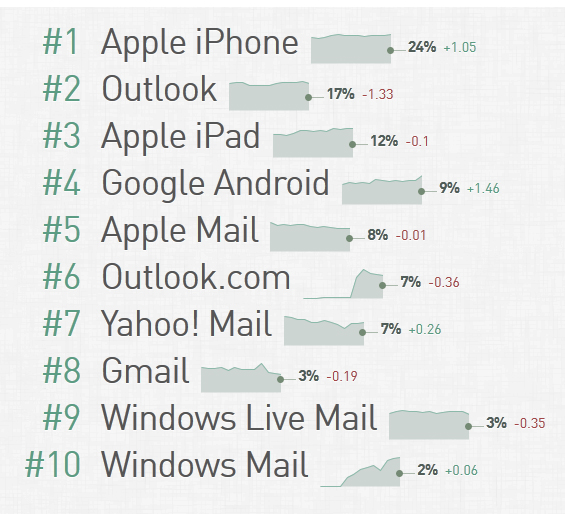 Ref: Email Market Share
The chart below covers some popular email apps for mobile, and mobile email compatibility basics like support for media queries, image blocking, ALT text, preview text and more.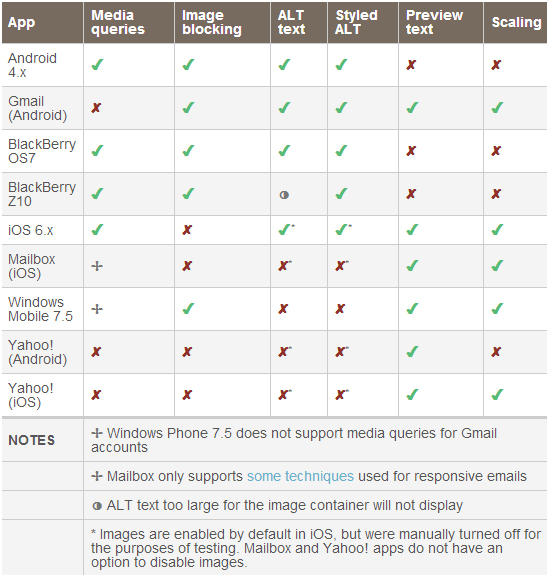 Ref: Litmus Blog
So before you launch your first marketing campaign, it's very essential to know how your newsletter looks, how to deliver it to your clients, how to avoid landing to spam and make sure it's compatible with most email clients. In this article, we're presenting 5 best newsletter testing tools which help you to test the compatibility of your newsletter against different clients and avoid landing to spam.
Let's have a look at them one by one.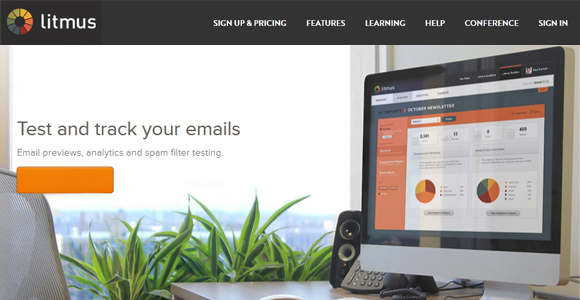 Litmus is a web-based email inbox preview tool, which helps you to test, optimize and track your email campaigns. Its key features include Email previews, spam filter testing and email analytics. You can see how effective your email looks in the preview pane, and can test that email on 30+ genuine email clients and mobile devices on the same webpage page, within a few minutes. You can also get your email scanned by all major Server-side and ISP spam filters like Barracuda, Postini, Gmail, Outlook etc., before sending it to your clients. It also provides "Litmus Email Analytics", which allows you know who read, delete, print or forward your mail, which device or email client your subscribers are using, where and when they opened your email and more.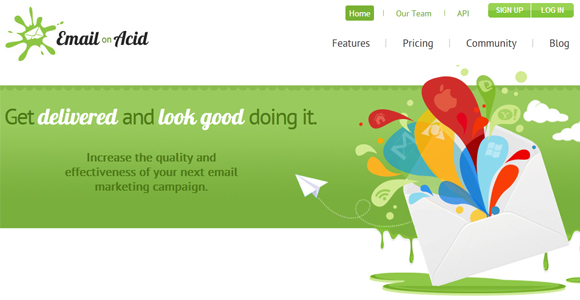 Email on Acid is an affordable, fast and customizable email testing tool that lets you maximize the success of your email marketing campaigns. It increases the effectiveness and quality of your email marketing efforts by analyzing issues related to your campaigns and maximizing your email renderability, deliverability, ROI, click-through rate, and conversions. You can preview your email in 68 combinations of the most common email clients, mobile devices and browsers, test your sending IP against 23 SPAM filters and 73 popular blacklist services, and optimize the code of your email before you send it to your clients. It has developer tools and a library of tips and tricks to correct and resolve issues as fast as humanly possible.
Additionally, Email on Acid offers advanced email analytic & reporting tools that allows you to know how long a client read your email, which email campaigns were successful, which email clients (desktop, web or mobile) have longest engagement and more. You can view real-time behavioral data from the moment you launch your marketing campaign and can also track clicks, opens, forwards, deletes, prints, engagement, location and so much more.
One of the key features of Email on Acid is Mozify. It lets you optimize your code for image blocking by converting any image to a formatted HTML text or an HTML mosaic. It enables you to get your important messages across before and only after then allow the browser to download images. Currently, this feature is available only for their active subscribers.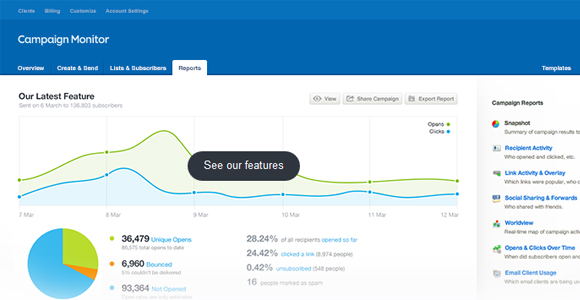 Campaign Monitor is a simple and user-friendly email marketing platform specially developed for designers that allows them to create emails, manage subscribers and email lists, and track marketing campaign progress. It provides a great template builder tool that lets you design beautiful, mobile-ready and automatically optimized email templates, by choosing from a range of layouts, adding your logo and tweaking the colors. You can preview your email campaign in over 20 different clients and run it against popular spam filters at the desktop, server and firewall level. It has numerous smart sending tools like RSS to email, A/B split testing, social sharing and Auto-responders, which helps you to send custom and relevant stuff to the right people at the right time.
Campaign Monitor provides an insightful analytics that generates beautiful real-time reports about your subscribers and enables you to see who opens your campaigns, when and how many times, what they were interested in, which subscribers forwarded your email shared it on social networks, which emails bounced back and much more. Additionally, it also has built-in Integration of Google Analytics that makes it easy to see what sales, ROI, site activity, and conversions your campaigns are generating.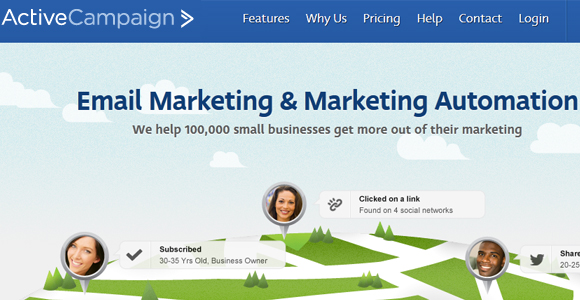 Active Campaign is a simple and easy to use tool that provides real-time email testing for all major email clients including Outlook 2003-13, Gmail, Outlook, Yahoo Mail, Apple Mail and more. It has powerful smart marketing features, which help you build and manage your subscriber list, increase conversions and save time with auto responders. It provides a campaign creation wizard that lets you design custom email campaigns that match your branding and goals. You can see how your message will appear in each email client and which code is actually causing a problem.
One of the best features of Active Campaign is Multiple Language Support. You can send your email campaigns in any language and also create your own language file. Using Email Segmentation technique, you can also increase the effectiveness of your campaigns by dividing them to smaller email lists for better ROI.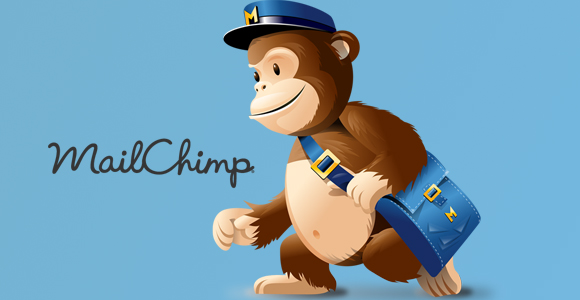 MailChimp is one of the most popular email marketing tools that allow you create the optimum email campaigns targeting the right audience and at exactly the time you want. It lets you test your email newsletter draft against all the major email clients, mobile applications and spam filters. It offers a drag and drop editor that allows you to add content on the newsletter and allow you to design the presentation of content as well. You can choose from a range of pre-designed templates or even code your own template using their Email Template Reference as a guide. It also allows you to integrate hundreds of third party apps and services including Google, Facebook, Twitter, Salesforce, Shopify, Eventbrite and SurveyMonkey. It's Multi User Accounts feature lets you grant different access levels to your team members.
Mailchimp also allows you to integrate Google Analytics, by which you can track your ROI and view how many of your email campaigns are successful. Using A/B testing, you can also find out which send time and subject line is working well. Segmentation and Groups allow you to send your subscribers specific content they really care about.
Comparative Overview
Litmus
Email on Acid
Campaign Monitor
Active Campaign
Mailchimp
Offered Services
Email Previews, Spam Filter Testing, Email Analytics
Email Previews & Optimization, Code Analysis, Spam and blacklist testing, Optimization For Image Blocking
Template Builder, Email Previews, Spam Testing, Campaign Sending Tools, 100+ Apps Integration
Email Previews, Creating & Sending Emails, Spam Prevention, Pre-designed Email Templates, Reporting & Analytics, Auto Responders, Apps Integration, Email Segmentation
Spam & Email Client Testing, Drag & Drop Editor, Email Templates & Banners, Automated Emails, Apps Integration, Multi User Accounts, Analytic
Paid
Y
Y
Y
Y
Y
Free
N
Y
N
N
Y
Free Trial Period
7 Days
N
N
N
N
Charges
Between $79-399
Between $35-70, Pay-as-you-go credit: $5/credit
Basic Plan: $9-299, Unlimited Plan: $29-699, Pay Per Campaign Plan: $15
Monthly Plan: Between $9-225, Yearly Plan: $7-191, Pay Per Email Plan: $15-500
Monthly Plan: $10-240, Pay As You Go Plan: $9-250, High Volume Plan: $380-12,930 per month, High Volume CPM Plan: $2,500-10,000
Spam Filtering
Y
Y
Y
Y
Y
Analytic
Y
Y
Y
Y
Y
Supported Email Clients
AOL, Apple Mail 6, Lotus Notes 8.5, Thunderbird, Outlook 2013, Yahoo!
AOL, Gmail, Yahoo, Apple Mail 6, Entourage 2008, Live Mail, Lotus Notes 8.5, Outlook 2013, Outlook Express, Thunderbird 13, Windows Mail
Gmail, Yahoo, Outlook, Spam Assassian
Outlook 2013, Gmail, Yahoo Mail, Apple Mail, Lotus Notes 8, Thunderbird 3.0, Mobile Me, AOL, Hotmail
Apple Mail 6, Gmail, Yahoo! Mail, AOL, Color Blindness, Lotus Notes 8.5, Outlook 2013, Plain Text, Thunderbird Latest
Supported Devices
Android 4.0, iPhone 5 iOS 6, iPad 2 iOS 6, BlackBerry, Symbian S60, Windows Phone 7.5
Android 4.0, Kindle Fire 2.3, iPhone 5, iPad 5.0, BlackBerry 8800/9930
Android4.0, iPad, iPhone, BlackBerry, Nokia Symbian S60, Windows Mobile 6.5
Android, iPhone, iPad, Outlook Mobile
Android 4.0, Blackberry 5 OS, iPad, iPhone5, Symbian, Windows Phone 7.5
Mobile Testing
Y
Y
Y
Y
Y
Contact Details
Phone: +1 (866) 787-7030
Email: hello@litmus.com
Create a support ticket to contact them
Fill their contact form to contact them
Phone: (800) 357-0402, (773) 904-0945
customersupport@mailchimp.com
In addition, there are some steps you can take to make sure email look and delivered fine. Here's a handy checklist you can refer while coding newsletter:
Always create a web version of the email campaign and link it to the newsletter.
All links must have absolute paths.
All images must have a specified height and width parameters
Images also must have absolute URLs.
Always define ALT attributes for images.
Always include a <title>.
Use tables for layout
Use Inline styles in CSS.
Use GIF or JPG format for all Images. Avoid PNG formats.
Avoid using JavaScript. Most email software will disable it anyway and some may put it in spam.
Newsletters that are targeted at mobile devices should be smaller than 600px in width.
Make sure that your HTML email displays acceptably with images turned off.
To check spammy content in your emails, visit: https://retainly.co/email-content-spam-checker