7+ Free Responsive Email Templates to Help You Grow Your Business
When you're running a business online, email marketing is definitely one of the best marketing technique to reach and connect with your target customers. And, with over 50% of all email opens being occurred on mobile devices, the demand for responsive email templates has become higher than ever today.
Whether you want to get people to sign-up your email list or are planning to send your existing customers offers all day long, there is a legion of free and paid responsive email templates out there for your rescue. In this list, we have collected 7+ best free responsive email templates which you can use for all kinds of email marketing campaigns and newsletters. Before we move to them, let's get familiar with the different types of email design, the importance of responsive email design, and more.
The Different Types of Email Designs
When we talk about email design, we have several options depending on simplicity and effectiveness. Ideally, there are three main types of email design:
#Scalable Email Design
This is the most basic method of adapting your emails. Scalable email design often uses a single column that automatically scales up or down according to the user's screen size, without changing the email structure. These types of emails require a minimal amount of coding effort but don't necessarily deliver the best results.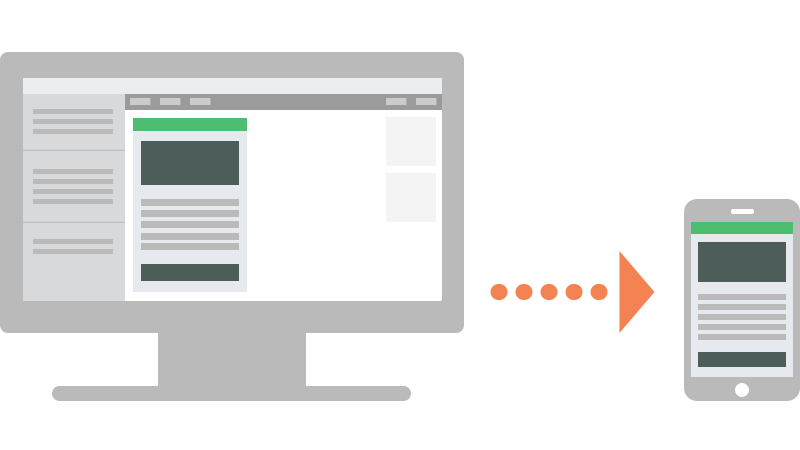 #Fluid Email Design
A fluid approach takes advantage of percentage-based sizing to automatically adjust the content of an email to the screen size of the device. While this kind of email design typically works best for text-heavy emails, users may experience a bit of extra whitespace around the edges of the emails.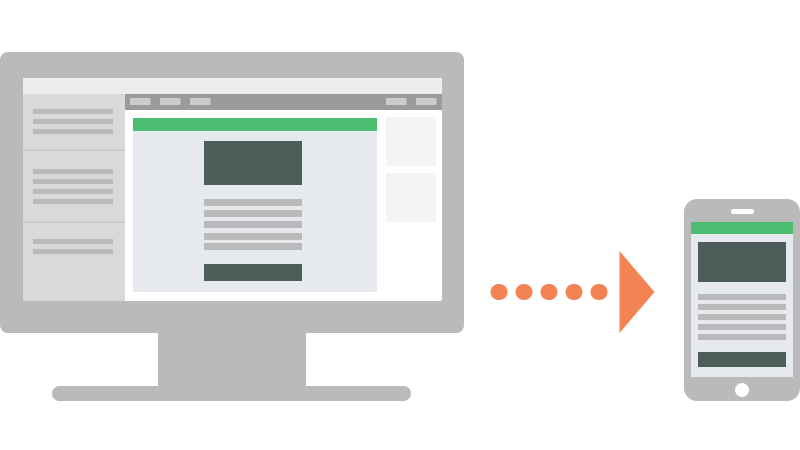 #Responsive Email Design
Responsive email design all about delivering users the email viewing experience customized to their chosen device. Leveraging the power of CSS Media Queries, the responsive approach renders different copies of the email on different screen sizes. While it requires more work at the outset, the responsive approach provides you with the most flexibility and freedom with your email design.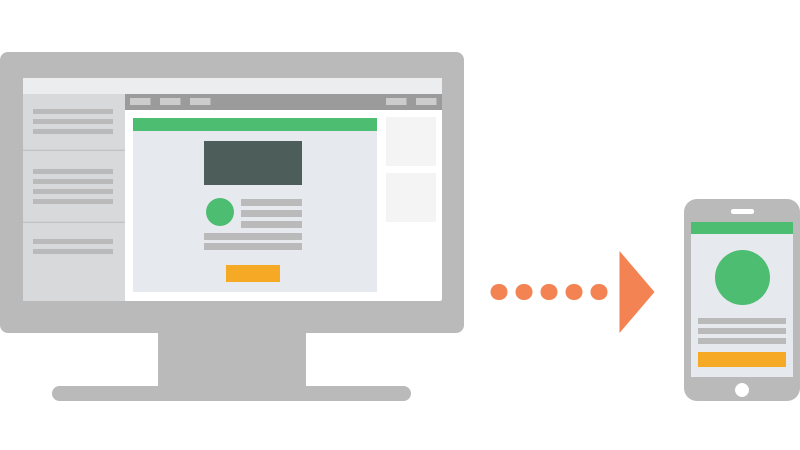 The Importance of Responsive Email Design
Numbers don't lie. You can understand how crucial responsive email design is for modern-age businesses through various statistics mentioned below:
Thus, looking at the statistics above, you can't overlook incorporating responsive email design in your marketing strategy!
The Benefits of Responsive Email Design
Where a well-designed, responsive email allows for better interactivity and consumption; on the other hand, the absence of responsive design in your emails compels your readers to unsubscribe or mark your emails as spam. Following are some of the well-known advantages of responsive email design:
#Enhanced User Experience:
Whether it's a website or an email, responsive design is the key to user experience. Incorporating responsive design in your email ensures that your readers won't have to pinch or zoom to navigate through the email. Additionally, bigger and better-spaced CTAs assist them where they should click to perform the desired action.
#Increased Conversion Rate:
If your emails are well-optimized for mobile viewing, you're are more likely to win the trust of your readers, and consequently, they would like to avail your services quickly. With a responsive email design, your customers can access your emails on the go and make a purchase anytime, thus increasing the overall conversion rate.
#Higher Sales:
Once you've successfully captured the attention of your readers, chances are they will prefer a mobile device over a desktop or laptop to make a purchase. Since responsive emails render perfectly on all mobile and tablet devices, they are more likely to take the decision to purchase your products or services when seated and relaxed.
#Higher Click-to-open Rate:
As compared to fluid and scalable design, responsive design is a much more powerful design technique. According to a recent study by MarketingProfs, responsive emails have a 21% higher click-to-open rate than non-responsive ones. For this reason, it's imperative to incorporate responsive design in your emails.
#Reduced Unsubscribe & Spam Complaint Rates:
1According to a report from email marketing firm BlueHornet, nearly 30% of recipients unsubscribe an email if it doesn't display well on mobile devices. Also, readers can even mark an email as spam if they find it difficult to view on their small-screen devices. By embracing responsive email design, you can avoid irritating your readers, which eventually contributes to lower unsubscribe or spam complaint rates.
Free Responsive Email Templates to Grow Your Business in 2020
#Colorlib Email v1
If you're a restaurant owner looking for a clean, minimal and premium-like responsive HTML email template, then this one is perfect for you. Being adequately adaptive and flexible, it can be used for any kind of food-related business or project.
Depending on your customization capabilities, you can use it for a number of different purposes too. Be it the launch of your new restaurant or a special happy hour deal to push, use this beautiful template to make a splendid impact on your subscribers.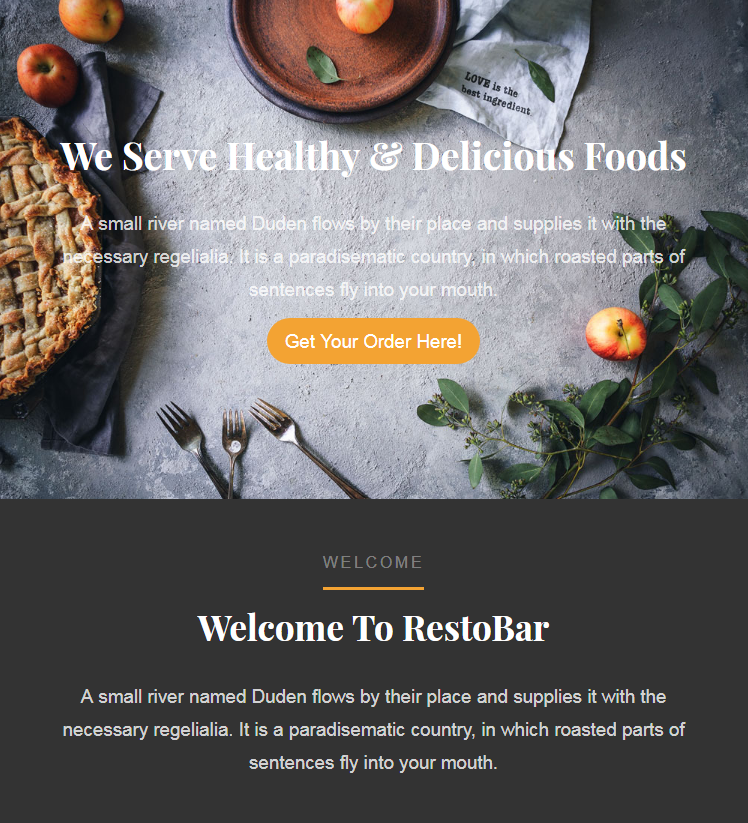 #Shopilicious
As the name itself explains, Shopilicious is a free responsive HTML email template for online store owners. Packed with some really amazing goodies like trendy colors, lovely fonts, highly-persuasive call-to-action buttons, coupons, and social icon integration, it allows you to create attention-grabbing and contemporary newsletters.
With this spectacular email template, you don't need to reinvent the wheel every time you're setting up an email template for your eCommerce business. Simply download the Shopilicious, perform your desired customization tweaks, and put your final template to action. That's it!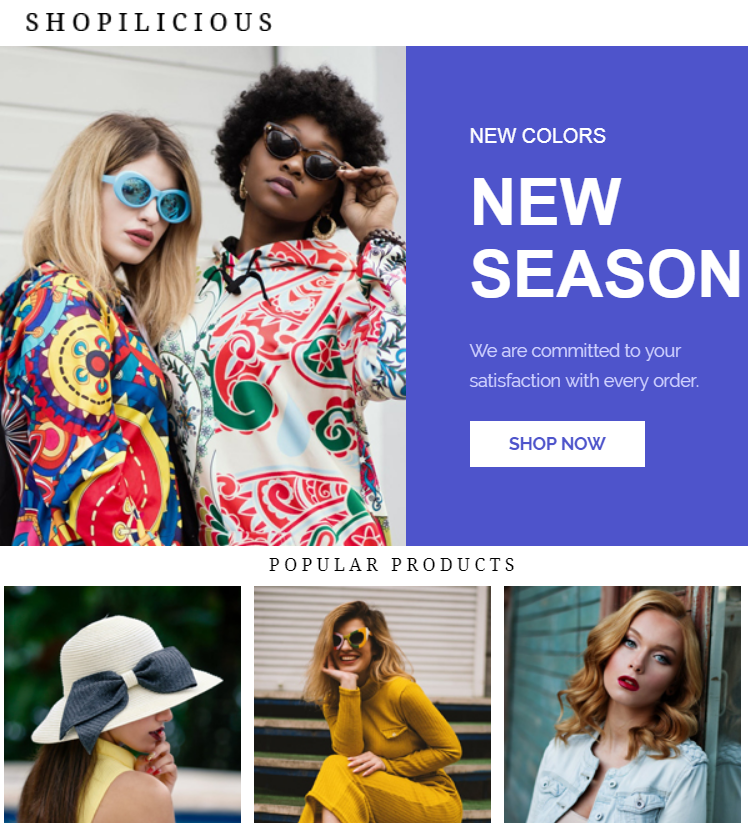 #Resonant
Resonant is a fully responsive email newsletter template compatible with a wide range of email clients and devices, including MailChimp, SendGrid, Campaign Monitor, Apple Mail, Thunderbird, Outlook, and more. Carefully crafted by HubSpot, this template is primarily designed to welcome new users to your website or service.
Pre-equipped with a "Download" call-to-action button which you can customize to your requirements, this template is perfect for everything from helping new users to complete their registration to make them familiar with the next tier of your product.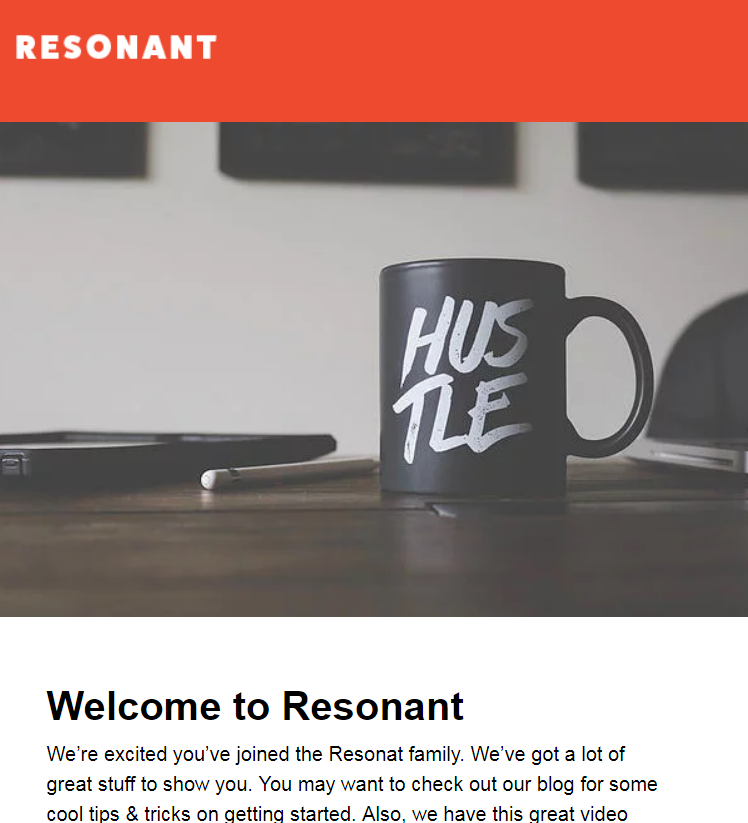 #Confirmation
After the arrival of GDPR, businesses are sending emails to users to get confirmation of the data they are getting. If you also are sending such emails to your existing customers, this template will prove quite handy to you. With this template, you can clearly and effortlessly ask your customers to confirm the desired information.
Carefully tested with Litmus and Email on Acid, this fabulous template comes with a call to action button and works seamlessly across a broad spectrum of email clients, which includes Mailchimp, Campaign Monitor, Constant Contact, GetResponse, SendGrid, and more.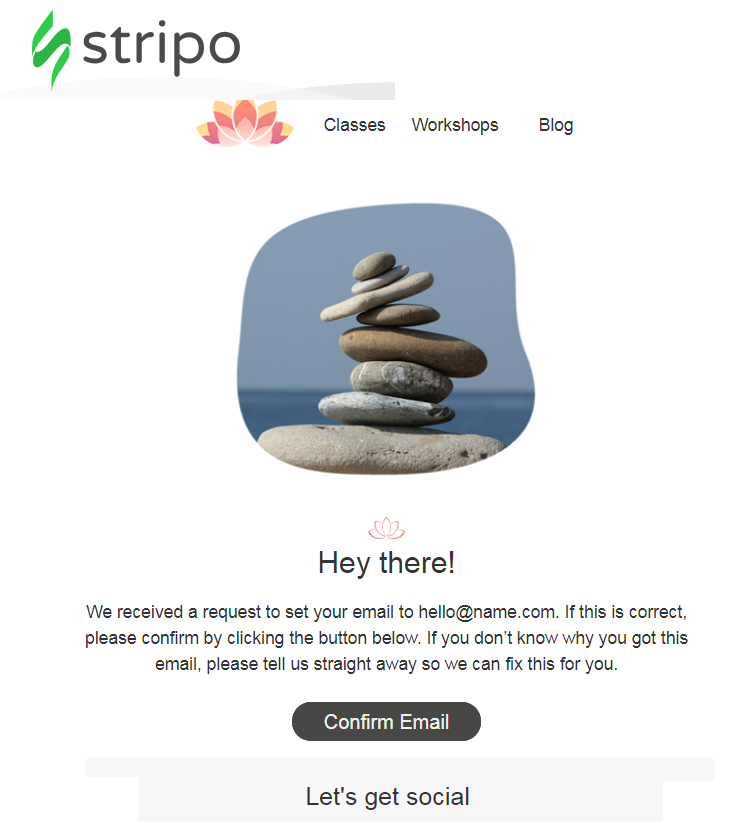 #Webinar Invite
Particularly built to help you promote a Webinar you want users to register for, this highly responsive email template can be used to promote anything from blog posts to services to products. Developed by WorkCast, Webinar Invite features an ideal balance of text and graphics.
With a clean and minimal design, this elegant email template also gives you an option to add a hyperlink or call-to-action so you can actuate users to visit a specific web page. Furthermore, you can customize the template to your unique campaign requirements.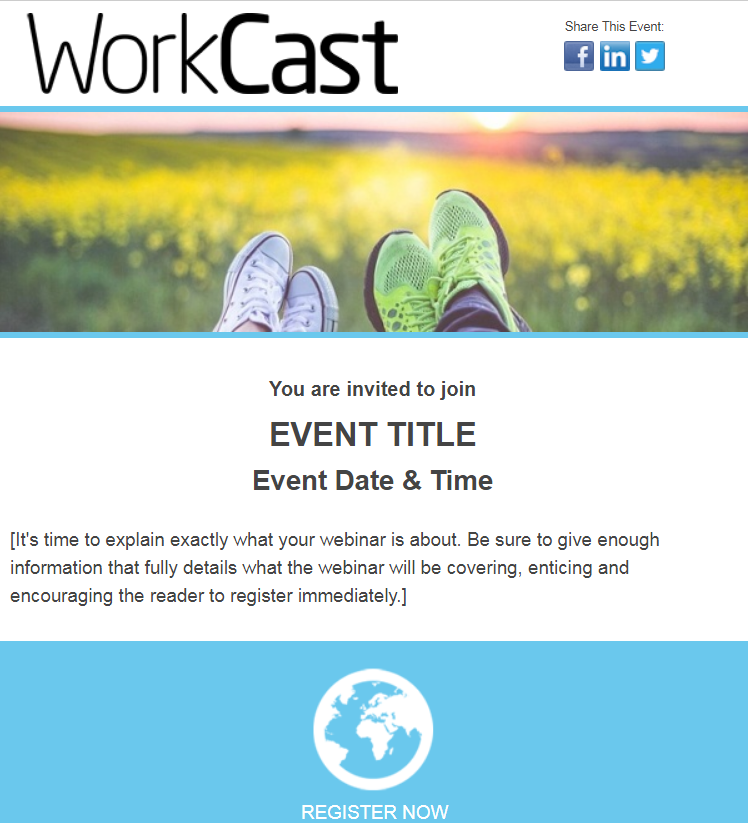 #Humming Bird
Humming Bird is a corporate style free responsive email template containing everything you need to run an effective email campaign about an in-house company event. Using this template, you can encourage your employees to present new projects and attend webinars about training or technology topics.
Moreover, using the Stripo drag and drop email builder, you can easily edit this template to your taste and also can conveniently export it to your favorite file format. For further customization, you can even add your own custom HTML code to the template.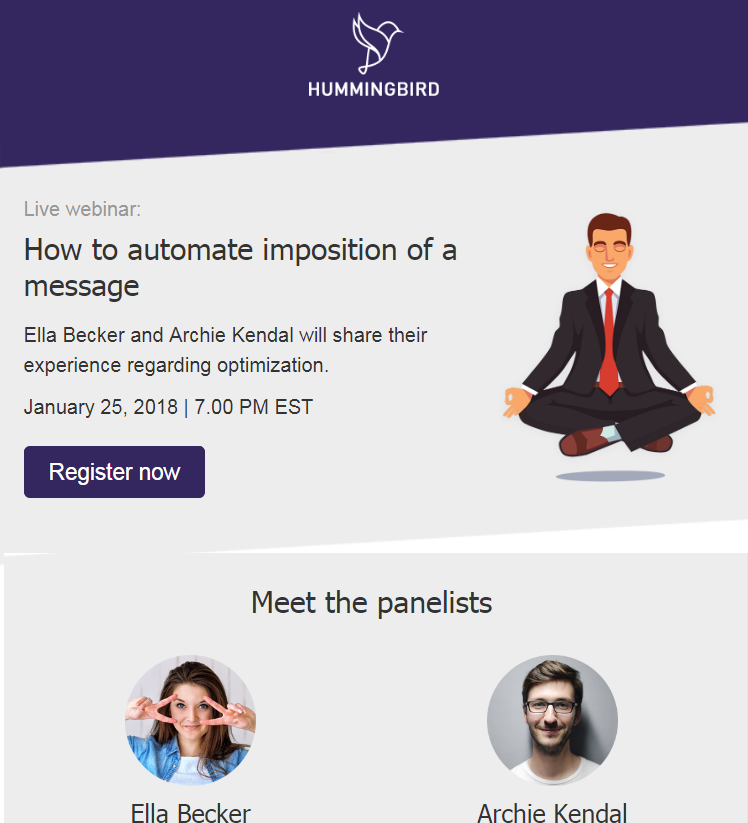 #New Collection
If you own an apparel store or home decor store, you would often need to make a new collection of your products. Running an email campaign about the new collection not only helps you to retain new customers but also keeps your existing customers back. This free responsive email template is designed with the same purpose in mind.
With a simple and clean design backed by big sections and image holders, New Collection follows a mini website concept to give your customers a clear vision of your products or services. Moreover, a completely different color is used for the pricing and CTA buttons are placed below every product to redirect users to the specific product page.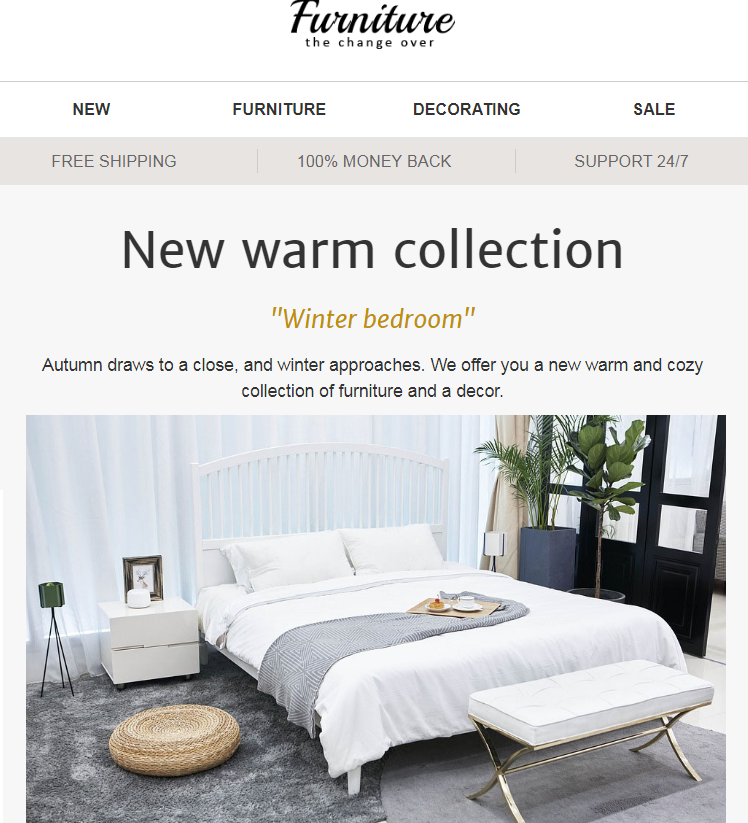 Apart from the above-listed eight templates, here is a comprehensive list of different resources that provide free responsive email templates. Let's take a look at them:
Best Practices for Responsive Email Design
If you're a developer, follow the tips and best practices given below to build a good responsive email template:
Stick to a single column layout.
Build a logical content hierarchy.
Use email-safe fonts.
Avoid image-only emails.
Make your CTAs easy to tap.
Use smaller, responsive images. Use ALT tags.
Avoid the use of hyperlinks. Use big, tappable buttons instead.
Keep your most important call to action (CTA) or information above the fold.
Don't forget to add an unsubscribe link.
Hopefully, you'd find this article valuable and helpful. If you need a custom responsive email template, feel free to avail our PSD to Email Newsletter Conversion service.