Keyword Ranking Tracking Tools Free and Paid
When we talk about search engine optimization, the first thing that comes to our minds is keyword research. Good content with appropriate keywords plays a crucial role in improving your website or blog's search engine rankings. Even if you have rich experience and expertise with keyword research, you can never be absolutely sure if your marketing strategies are working as they are supposed to. Thus, you always need a detailed report about your blog or website's keyword rankings in popular search engines.
In order to be on the safe side, you can use different keyword rank tracking tools to make the most of your keyword positioning and research. These tools can be used for tracking your blog or website's rankings for a particular keyword. Thus, you will be able to set up further goals and appropriate strategies. As mentioned above, there are many both free and paid rank tracking tools on the internet. In this article, we have talked about some of the best.
Free Keyword Ranking Tracking Tools
Here are three free keyword ranking tracking tools :

This is an excellent tool for keyword tracking. However, it only lets you track rankings in Google. It has been popular because of its ease of use. In order to track rankings, you only need to type the URL and keyword of your website or blog. You need to follow some simple steps and the exact position of that particular keyword in the Google will be displayed almost instantaneously.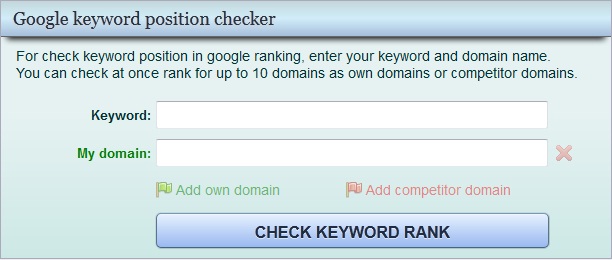 This tool is also quite simple and very easy to use. Just like the previous tool, it also tracks keyword rankings in just Google search results. This tool is perfect for beginners and people who don't want to get into complex or lengthy processes. You need to enter your website or blog's URL and keyword. Everything else will be handled by the tool itself.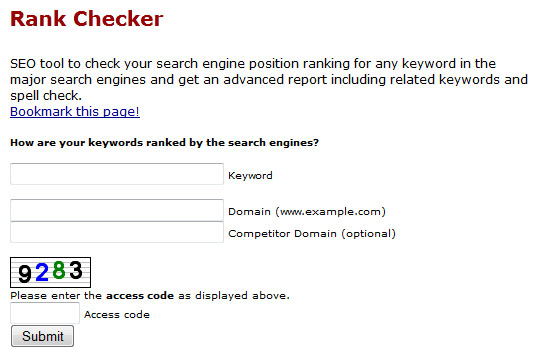 With this tool, one can not only check your own blog or website's position on popular search engines, but also find out how well a competitor is doing. This keyword tool allows you to track position in multiple search engines. The report will not only show a keyword's rankings, but also its competitive pages and ranking history.
Paid Keyword Ranking Tracking Tools
Now, let us talk about some paid tools which are worth your money.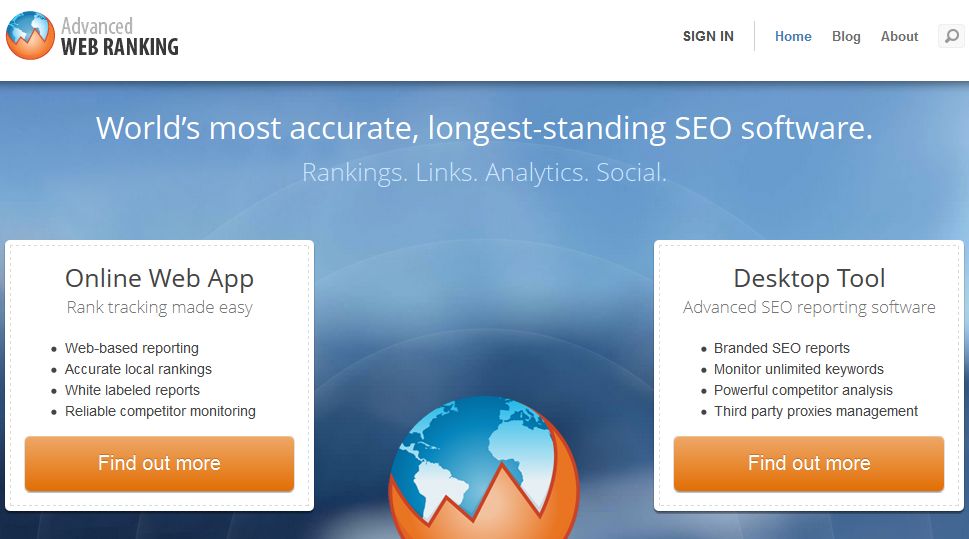 If you want the one of the best keyword ranking tracking tools, and you are willing to pay some money, this will be your best choice. It will track a keyword's rankings in all popular search engines. This comes with exceptional features and lets you track the position of a keyword with each. Advanced Web Rankings has always been known for its well-designed reports and accuracy.
The report is displayed in chart format. This allows you to compare rankings with other competitors. This tool also has an Email feature. Thus, you can receive a report at an appropriate time. It will be mailed directly to your inbox. Advanced Web Rankings can be tried in a trial version without the need of a credit card. However, the Pro edition costs $199.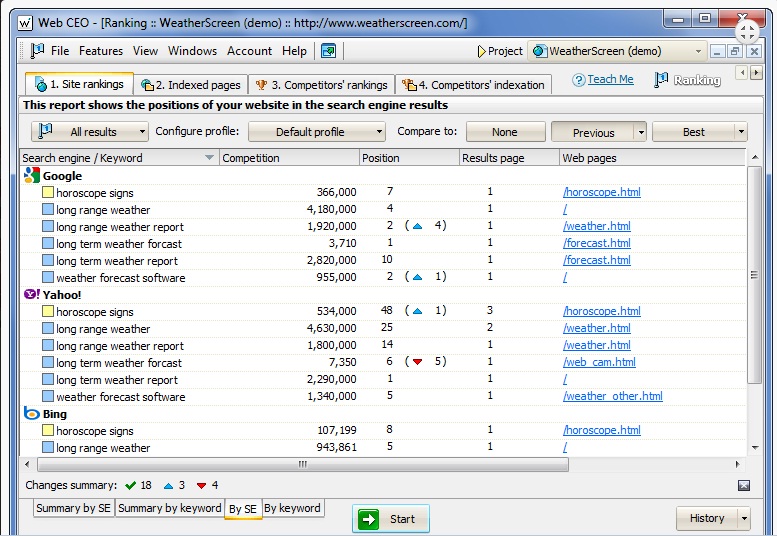 This tool has always been popular among internet marketers and bloggers. However, some users believe that Web CEO is not as efficient as it appears to be. Still, it is worth a shot. A trial version is available, which helps you analyze the tool and decide if it would be a good choice. Web CEO allows you to track the position of the keyword in almost 800 search engines. With so many options, you might be wondering if it is good with all search giants like Google, Bing and Yahoo. As you can track a competitor's rankings, this tool is value for money.