X Theme Review: The Most Popular Multi-purpose WordPress Theme
Have you ever thought of a WordPress theme that you could customize the way you like, and using which you could create any kind of site for any purpose? Thanks to X: a spectacular, dynamic and extremely customizable WordPress theme developed by highly talented folks at Themeco.
Publicized as "the last WordPress theme you'll ever have to buy", X is ThemeForest's fastest and best selling item of all time. In this blog post, we'll take a closer look at some of the outstanding features of the X theme, which played a vital role in making it extremely popular and successful.
Let's start!
Key Features of the X Theme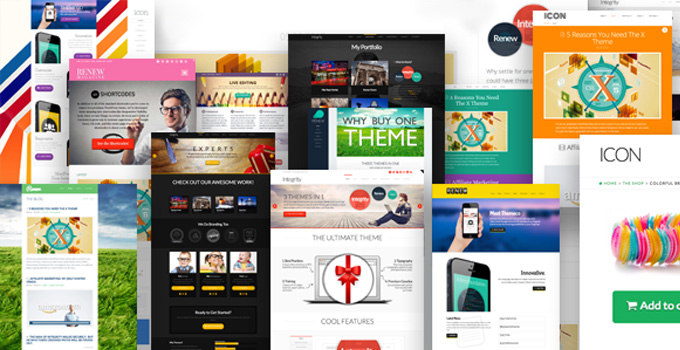 Unlike other themes that have only one design, the X theme comes with multiple unique designs, which are referred to as "Stacks". Each stack has its own unique features and is crafted in such a way that anyone can instantly change the look and functionality of their site with just the click of a mouse. In a nutshell, stacks are "multiple themes within one powerful theme".
At present, X offers four Stacks while more are under development. These are as follows:
Now you would have understood why no other WordPress theme is as versatile as X.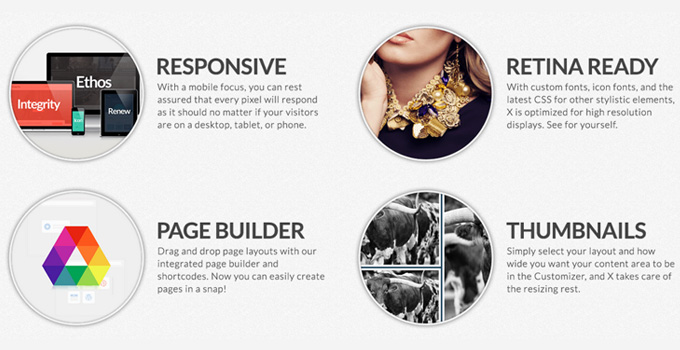 The X theme is designed with mobile in mind and fully optimized for high resolution displays. Whether you're on 11" Netbook, 27" iMac, Android phone/tablet or Kindle Fire, every pixel of X will respond as it should. Instead of utilizing an adaptive layout (fixed break points), X developers have chosen to make use of a percentage-based (completely fluid) design that looks fabulous on all devices and screen sizes.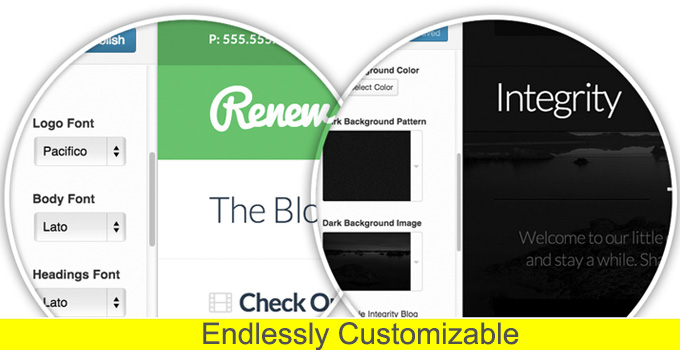 The X theme features a live customizer that is built on the top of the native WordPress customizer. X developers have vastly upgraded the WordPress customizer to give you much control over the look and functionality of your site. Be it a font, a logo or even a layout, now you can see exactly how they look before getting published. There is no need to reload the browser and switch between windows over and over again; all of the changes you've made will be previewed live within the same browser window. Best of all, you can also import and export your settings for future use.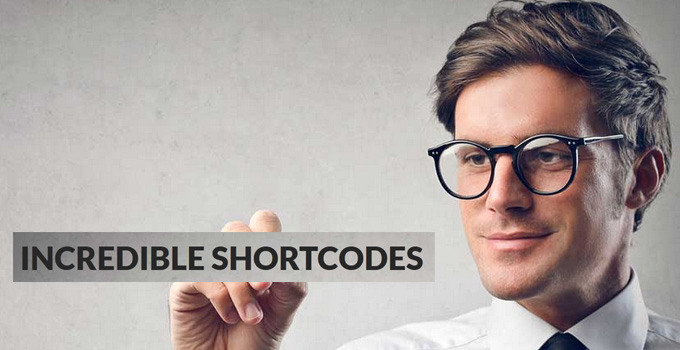 Most of the premium WordPress themes use shortcodes as a part of the theme itself. This means when you make any change to the current theme or activate a new theme, the content of you site is broken. To solve this problem, the developers of X have made an easy to use plug-in that contains around 40 stellar shortcodes like pricing table, responsive slider and tabbed content etc. This means you can make changes to your theme as many times as you wish, no content will be broken until you deactivate/delete the plug-in.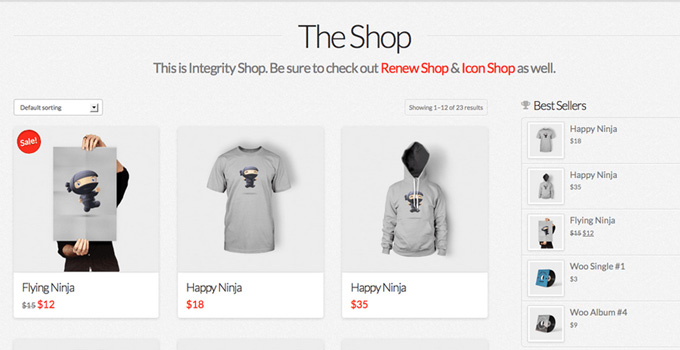 The X theme fully integrates with popular WooCommerce plug-in, means you can effortlessly transform your normal WordPress site into a multi-billion dollar eCommerce storefront with a single click of mouse, without paying any extra cost. Every stack of X has one unique shop design that you can use as eCommerce solution for your site. Check them out below:
In addition, X also has full BuddyPress and bbPress integration.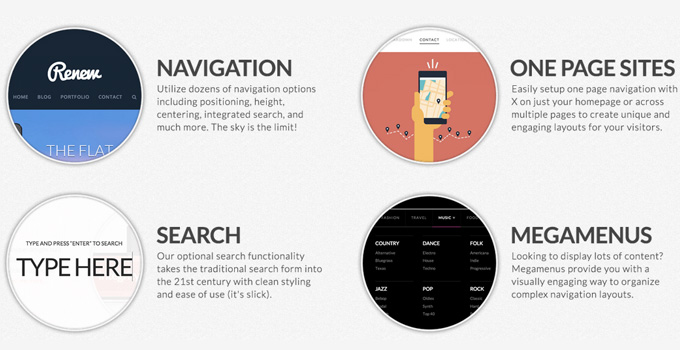 Over the few years, one page sites have gained tremendous popularity in web design world. Do you also want to create a one-page scrollable website? The X theme will give you the power to do that. With its one page navigation feature, you'll be able to create never-seen-before and interactive one page layouts for your visitors. Where you want to activate the one page navigation, on homepage or across multiple pages, the choice is completely yours.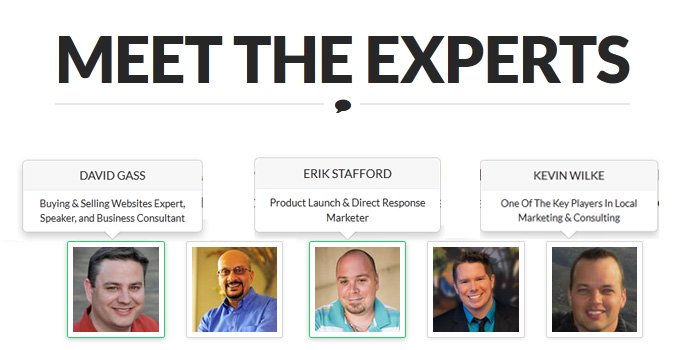 As the X theme is built in conjunction with renowned internet experts, so you don't need to worry about things – like website speed, conversion, SEO, and copywriting etc – related to internet marketing. The developers of X theme have consulted smartest SEO, blogging and marketing experts before crafting it and the result is in front of you: the most feature rich WordPress theme on the entire planet.
You can buy the X theme from ThemeForest for just $63. May be the price of X seems too expensive to you, but don't forget it offers absolutely everything you need to create a stunning website of any kind. Therefore, we think the price of X is fair and worth every penny. In short, buying X is like purchasing all themes for the price of one.
Conclusion:
With more than 29,000 downloads, the X theme really has become a great asset for WordPress lovers. However, developers of this spectacular theme have made numerous bold statements, like 'the ultimate WordPress theme', 'one theme, endless possibilities' and so forth, which may make you a little bit surprised. But one thing we're sure of, the X theme would prove to be a huge boon for WordPress. Whatever kind of website you're looking for; X would not disappoint you in any fronts.
The X theme is reviewed by XhtmlJunction Team. Contact Us for Custom WordPress Theme Development Service.