Joomla is not a new name for you. It is one of the best open-source Content Management Systems available in the technology market. Not only it is being used to publish and manage content on World Wide Web but on local Intranets also. Joomla had been downloaded more than 2.5 million times in the first year of its release. This single fact is sufficient to demonstrate the power of this unsung Great CMS. The famous global entities like General Electric, CitiBank, eBay, IHOP etc. are using Joomla as front face of their Websites. Yes, the emergence of WordPress and Drupal has reduced the usage of Joomla, but still it has been downloaded 21 million times between March 2007 and February 2011. More than 6000 paid and free plugins are available to use on Joomla! Recently its latest 1.6.1 version was released. Let discuss about the new features introduced in Joomla 1.6.1.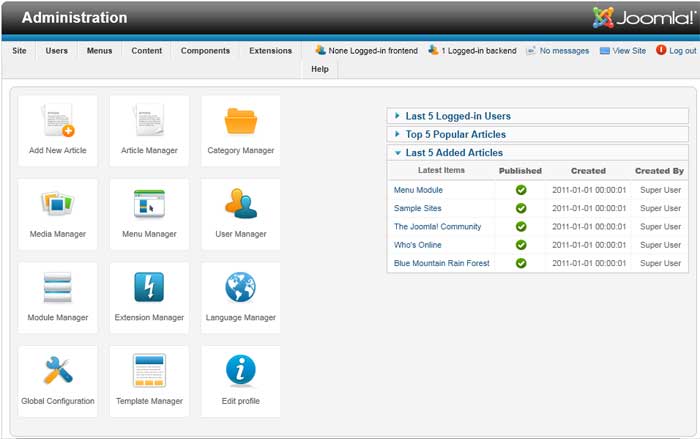 The main goal of Joomla 1.6.1 is to make it more user friendly than its earlier versions. The version 1.5 was released on January 22, 2008. After researching for almost three years, 1.5.22 was released on November 5, 2010 with appreciable improvements and subsequently version 1.6.0 and 1.6.1 were released recently.
New Features Introduced in Joomla! 1.6
User Manager
One can use the User Manager to add users, manage user access, activate, block, unblock, and delete them. In addition, you can also add the users to a single group and manage it as well.
In addition, the Access Control List (ACL) has been revamped completely. Administrators can define unlimited access levels. This is quite useful for systems with multiple users; it can be a Website published on Internet or running locally on Intranet. Now, Joomla can attract a large number of users/site owners who need a potential and multiple user supporting CMS for their local networks.
Revamped Layout
The tables are used to develop the core components of previous Joomla editions. Joomla 1.6 has adopted the semantic XHTML layouts with table less code to develop their core components. This feature will ultimately result into wider adoption of Joomla as SEO and Web designers prefers table less designs.
Depth Organizational Model
The sections had been replaced in the Joomla 1.6.0 with nested categories. The administrators can create unlimited sub-categories for better classification and hierarchy model. Category Manager has following features: -
New Note Field
Filtering the categories based on language,
Ability to assign the content language.
Templates
Joomla 1.6.0 has three Website and two administrator templates. The old Khephri administrator template has been replaced with two templates – Bluestork (default) and Hathor (alternative). Beez2 is the default Website template and Atomic is an alternate for the same. Beez2 is completely based on the standards of XHTML and is HTML5 complaint. The exciting new templates, new modules, and plugins have been added for better functionality of your Website.
One-Click Extension Updates
Following the path of inbuilt Plugin Manager of WordPress, the Joomla 1.6.0 has Extension Manager to install, manage, and delete the extension from one panel itself.
Multiprocessing
The administrators can put the multiple operations like copy and move, and access level organizations in batches. This signifies complete utilization of the resources and Joomla.
Multilingual
Joomla 1.6.0 now allows creating categories, modules, and articles in numerous languages. The administrators can use Language Switcher Plugin to filter the complete Website in the selected language.
Removal of Legacy Mode
Legacy Mode of Joomla 1.5 is no longer required to run the components originally created for Joomla 1.0. The continuous and large amount of development of native components for versions 1.5 and 1.6 has led to the termination of Legacy Mode. In fact, this is a good aspect to move ahead to adopt latest standards and up to date components to develop a Website. However, the users of Joomla 1.0 components may suffer from this.
Search Engine Optimization Features
The Unicode can be used now in the URLs means freedom to use special characters of Arabic, Hebrew, Hindi etc. Joomla 1.6 also allows adding the META keywords and text to the categories. In addition, the users can change the page header and keywords individually for each Web page. The adoption of table less design is also a plus for SEO professionals.
Changes in Components
Code Mirror has replaced the old TinyMCE Editor. It is not a WYSIWYG editor but offers a better environment to work with code content.
The administrators can publish time-controlled modules.
New Redirect Component allows redirections of URLs to avoid'404 not found' errors.
New Search Component provides overview of displayed results and searched terms.
Survey Component has been removed.
If you are already running a Website based on Joomla then it is the right time to adopt its upgraded 1.6.1 version. If you are going to host a new Website, then the new Joomla 1.6.1 is worthy to try.